What Type of Wetsuit do I Need?
How to choose a Wetsuit

Thickness
Thickness is expressed in inches and millimeters
Thicker wetsuits provide greater insulation, but the quality of the material plays a part as well
If your diving conditions vary from the extremes, you should buy the thickest wetsuit to cover your needs
Refer to the chart below to help determine the appropriate wetsuit based on the water temperatures where you plan to do your diving
Recommended Thickness

Water temperature

Thickness recommended

75-85F

1/16" (1.6mm) neoprene, lycra, .5mm

70-85F

1/8" (3mm) neoprene

65-75F

3/16" (5mm) neoprene

50-75F

1/4" (6.5mm) neoprene

35-65F

3/8" (9.5mm) neoprene, drysuit
Styles
There are also a variety of wet suit styles to fit your diving conditions.
Shorties
Three-quarter
Full-length
Full suit
A one-piece suit from neck to ankles
Some styles give you the option to buy a suit with long or short legs
Farmer John/Jane
Two-piece suits that offer a better fit if you have an odd leg-to-torso figure
Dry suit
If your diving conditions are in really cold water or deep depths, you may want to consider a drysuit
Designed to keep as much water out as possible by using rubber seals around the neck, wrists and ankles
Some also use Velcro-style straps around the wrists and ankles to provide an extra measure of sealing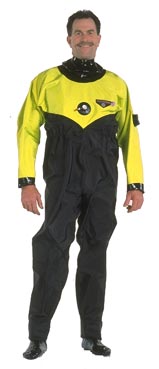 Determining the proper style
The chart below gives you guidance but you should also consider another factor--protection from the elements. Even a thin suit that covers your arms and legs gives you some protection from sun and scrapes.
Protection From The Elements

Water temperature

Style of suit

80+F

Lycra Skin or Shortie

76-80F

Shortie or 3mm Full Suit

65-72F

3mm – 5mm Full Suit with Micropene Hood

60-65F

5mm Full wetsuit or drysuit with Hood

50-60F

Full drysuit

Under 50

Full drysuit-gloves, hood and booties
Dive into Scuba sells scuba diving gear at the best prices on the 'net. We're an authorized dealer for top name brands and manufacturers of scuba gear, including Akona, Aquatec,Genesis, Sherwood, Zeagle, Cressi, Underwater Kinetics, ScubaMax, Beuchat, Sealife, XS Scuba, Tilos and many more. From hoods to booties and everything else you need for an enjoyable, safe scuba diving adventure, you'll find it at Dive into Scuba. Our company is owned and operated by scuba diving veterans with more than 80 years of experience.

Our Store Location

********

Corporate Office

( No Retail Outlet)

Dive Into Scuba / The Scuba Shop
2515 Irving Blvd
Dallas, Texas 75207



Cheap Charlies Tour Inc.
1079 W. Round Grove Rd.
Lewisville, Texas 75067

Contact Us by Email
About Us
Shipping Info
Links
Warranty Info
Website powered by Network Solutions®